"You no longer need to travel anywhere else for your dental treatment because you have concerns about clinical hygiene and sterilization. We challenge anyone to find a more sterilized clinic than ours"
ASK FOR YOUR TOUR OF OUR STERILIZATION AND DISINFECTION CENTRE, for your comfort we will be delighted to show you around.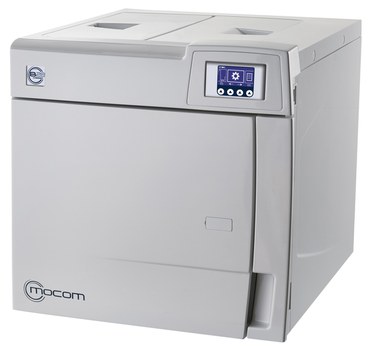 Hand washing and glove use
The dentist and dental team members (dental hygienist and assistant) thoroughly wash their hands and put on a fresh pair of gloves each time before starting any treatment.
Protective clothing
Your dentist and dental team wear protective clothing while they provide treatment. Such clothing includes protective eyewear or a face shield and a clean clinical jacket or lab coat to cover their personal attire.
Sterilization and disinfection
The instruments are scrubbed clean by hand to remove any surface debris.
They are soaked in a disinfecting solution inside an ultrasonic cleaner that uses heat and ultrasonic waves to thoroughly clean and disinfects them.
The instruments are then wrapped in a sterilization pouch and sealed.
They are placed in the B-class steam autoclave.
When they are required for use, they are unwrapped in front of you so you are assured of receiving safe, hygienic treatment.
Why is a Class B autoclave recommended for dental applications?
n May of 2004, the European Union Commission published Standard EN13060, which replaced previous European standards for new autoclaves.
The new standard designates autoclaves as Class "B", "S" or "N". Class B autoclaves fulfill the strictest stipulations of this standard (this is the type used in our clinic).
Class B autoclaves incorporate better steam penetration through fractionated pre-vacuum technology and can be used for every type of instrument Sterilization(including hollow instruments like dental hand pieces), therefore this type of autoclave is strongly recommended for the sterilization of dental instruments.
So what exactly is sterilization?
Sterilization is the destruction or removal of all viable microorganisms, including many of the resistant bacterial spores. Since this process covers the broad range of pathogens that may be found in dental, ophthalmic and any surgical procedure, it is the only clinically acceptable means for dealing with reusable instruments between patients.
Autoclaves commonly sterilize by exposing the items to be cleaned to elevated temperatures of 121 to 134ºC under pressure of 15 to 30 psi, for a holding time of anywhere between 3 to 30 minutes
(please note that the three to thirty minutes time is the holding time at the set elevated temperature and not the total process or cycle time).
The combination of the three lethal parameters of time, temperature and steam, deliver a powerful kill rate, which even the hardest of bacteria find hard to survive. This effective and yet clean method of lethality is unmatched by any of the other methods of sterilization.
The type B sterilization cycle is used to process loads that can retain air. It can sterilize solid, hollow, and porous instruments, be they wrapped or unwrapped. Pressurized steam is an effective sterilizing agent provided that the internal air has first been removed from the chamber as well as the air retentive load. Residual air prevents direct contact between steam and the load to be sterilized. Hence this B-cycle involves the use of active (forced) air removal, usually by using an inbuilt vacuum pump. These pre vacuum or Class-B sterilizers create a vacuum, thus removing air from the load prior to the chamber being pressurized with steam. This can be done from one to three times, depending on the cycle selected. This technique allows faster and more effective steam penetration throughout the entire instrument load than the gravity displacement technique typically employed in sterilizers with N-cycles.
Handpieces are the mechanical instruments used in the dental office. Hand-piece sterilization and disinfection are part of the American Dental Association's long-standing infection-control recommendations.
We have a large number of handpieces that facilitate the sterilization in the autoclave after every single use, ensuring that each patient doesn't have to wait for items to be cleaned. The pre-cleaned items will be unwrapped in front of the patient the minute they sit with the dentist.
Disposable items
Many dental materials such as gloves, masks, wipes, paper drapes, suction/water tube tips, needles, and scalpel blades, are used only once and then disposed of properly. Using disposable items is another way we are able to maintain a clean and safe clinic.
Waste materials
We care about our community, all the waste materials are disposed of and handled carefully. Needles and other sharp items are disposed of in special puncture-proof containers. Other contaminated waste is disposed of in special bags.
Office cleanliness
The general cleanliness of the office especially surfaces such as countertops, chairs, X-ray machines, and light handles is of equal importance to us. When you enter the building from the street, you can detect our practice from the hygienic smell emanating from inside our clinic