Dental Prosthetics and Cosmetic
Welcome to prosthodontic clinic in the Arab Dental Center, we are pleased to give you a brief knowledge of the services and treatment afforded to the patients.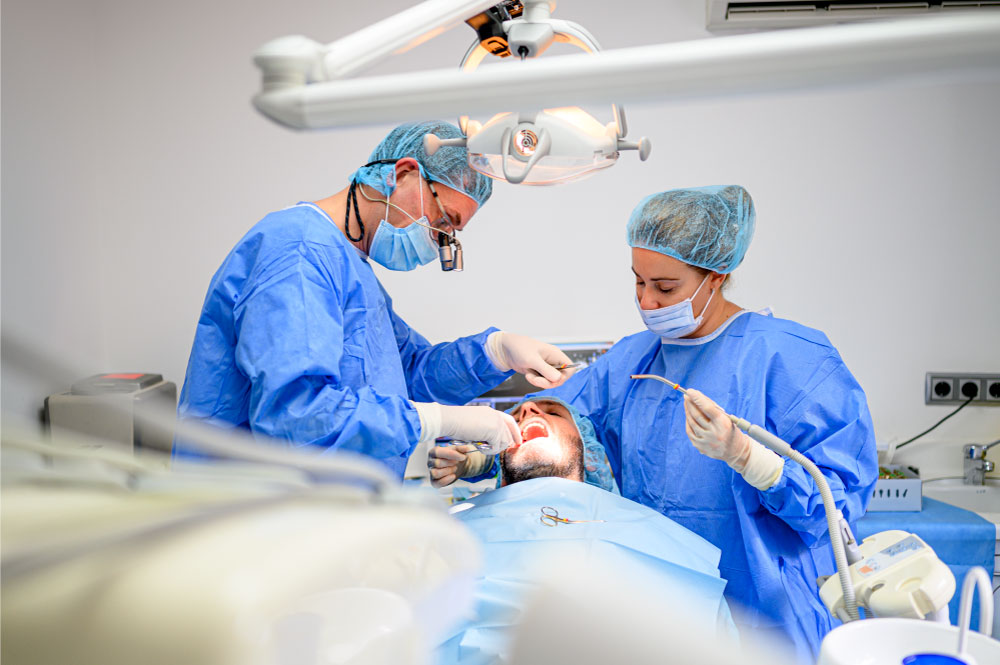 Missing teeth is the main problem making people come to the prosthodontic clinics.
Missing teeth affect the appearance and function of the oral cavity (mouth) also severe resorption of bone in the extraction site (missing teeth site) will participate in wrinkles in the face around the oral cavity so teeth replacement is mandatory for appearance, function, and bone health.
· Prosthodontic clinic in the Arab Dental Center can provide a wide range of teeth replacement treatment plans, ranging from the removable appliances, complete and partial dentures, and acrylic or chromium cobalt to the fixed prosthesis. Porcelain fused to metal or porcelain metal-free (In Ceram, Impress II, CAD/CAM, Zircon, or Prettau )
· Implantology is a new innovation in dental practice nowadays even with complete loss of teeth. At the Arab Dental Center, we can construct fixed prostheses and return the natural smile.
· Malformed teeth and deeply stained teeth also can be treated with a fixed prosthesis for better function and appearance by using Laminate Veneers or Lumineers
· Prosthodontic clinic in the Arab Dental Center is prepared with highly qualified, talented, and experienced clinic staff and provided with recent advanced healthy materials and also equipped with new machines to achieve the best results.
· CEREC computerized machine for immediate ceramic crowns or CAD-CAM bridges are evolutionary era in fixed prosthodontic minimizing all laboratory work time, all of which are available in the Arab Dental Center.
· In the Arab Dental Center, we have solutions for most difficult cases.
· Our aim is to make prosthetic treatment therapy an enjoyable experience and a beautiful smile in your own way.
BOTOX
Botox: is a protein and neurotoxin produced by the bacterium clostridium botulinum
It is a prescription medicine that is injected into muscles and used :
We are in Arab Dental Center use Botox in the following cases to prevent headaches in adults with chronic migraine which muscular origin.
Botox is a cosmetic medicine that is used to prevent or treat wrinkles in the forehead (Frowns Lines ) and per orbital lines (Crows Feet )
Botox also used to treat Gummy Smile .
People that most of the upper Gum appear when they Smile. New can be treated for 6 months by Botox and can easily achieve a wonderful smile.
Botox used to treat TMJ problems and pain.
Botox is safe to be used in severe sweating areas in the forehead, Palms, and under arms…
Botox can efficiently affect sweat glands and sweat production.
Discuss with your doctor your eligibility for Botox….
Hollywood Smile
It is A routine name used to describe beautiful white well-aligned teeth in a healthy gingival with a beautiful face…
Hollywood smile – start from …
Only dental bleaching:- if you have complete good-aligned teeth .. you need only to make scaling and polishing followed by bleaching:- either by laser or by special lights (zoom, Beyond,…..etc)
Or laminate veneers
Lumineers:- if you have well-aligned teeth with only dark discolorations that are internal or cant be removed by bleaching then go to the contact lens of a tooth ……
Your doctor will discuss with you which better for you veneers or lumineers.
Crowns and bridges:- if you have huge restorations or root canal-treated teeth so it is better to go for full coverage of teeth to protect them from further fracture.
If you have Missing teeth:- go too fast –non-surgical. Implantation with immediate crowing in 72 hours.
In Arab DentalCenter:- we can deal with even. Full mouth rehabilitation of upper and lower jaws.
Fillers
Fillers are hyaluronic Acids used to fill the lines and wrinkles with results that can last
for 4-6 months.
While Botox injections relax the tense muscle under wrinkle … Fillers are used to filling the lines, creases, or wrinkles to give volumes and to fill sagging slur.
In general
1. Dynamic wrinkles (Which Caused by tension overactive muscles) usually treated.
2. Static wrinkles (Not caused by muscles but by Ageing and sagging of skin )usually treated with Fillers (Volumeizers ).
Also, there are many cases we can use both Botox and Fillers to optimize the results.
Filler can be used in:
Nasolabial wrinkles (between Nose + Mouth).
Marionette line (are und mouth).
Cheek Augmentations.
Gingiva Augmentations .
Facial Cosmetics clinic & Hollywood Smile
In Arab Dental Center, there is a Specified Clinic for the beauty of your face and your Smile (Hollywood Smile).
Hollywood Smile not only White bright well-aligned teeth …it means healthy Pink gingiva and Soft fully lips in beautiful wrinkles free face …
-We have a fully equipped Cosmetics beauty clinic with highly advanced Instruments and devices …and highly Specialized Cosmetic dentists.
– We have Hollywood Smiles with Lumineers (non-preparation) or snap-on smile (also non- preparation) or Veneers (Slight preparation) or Crowns and bridges … each.
– We Use the Best material in Veneers, Crowns, bridges by CAD/CAM Techniques.
Cosmetics clinic
-We Use Digital Smile Design DSD Techniques to achieve the best results.
DSD Design is a new software that enables patients to see their new smile (teeth form, size, and design) before starting their treatment.
-Patient should be examined by a teamwork Cosmetics dentists and 3D –X-ray diagnosis system accordingly treatment plant will be introduced to the patients.
-We have the most advanced Whitening devices
-We have the most advanced Laser Devices: Er.YAG Cavo
Er.Cr.WSGG Water Laze
Diode lazer Bio Laze
-Cosmetic Clinic in Jordan Hollywood smile To treat all types of gingival and periodontal inflammations with great results.
-Cosmetic Clinic in Jordan Hollywood smile To treat black or bluish Gingiva without bleeding ….without pain
-Non –invasive.Irreversible treatment.
White bright teeth need Pink gingival to complete the beauty of the face.
-Cosmetic Clinic in Jordan Hollywood smiles To get rid of bluish or black pigmentations on the lip.
It is marvelous now with LASER to have Pink lips Free of any black or bluish discolorations.
Cosmetic Clinic in Jordan Hollywood smile To treat any lesions inside mouth or Ulcers.
Cosmetic Clinic in Jordan Hollywood smile To Cut gingiva or polyps or any extra soft Tissues without pain without bleeding.
We use:
1. Botox and Filler to treat àFacial Wrinkles around mouth and eyes.
2. Gummy Smile.
3. TMJ Problems bruxism clenching
4. Migraine and facial pain.
We Use PRP =Platelet Rich Plasma.
Using the most advanced centrifuge to separate healing and Generating factors
Focusing them into face +hair.
Will give more beauty and enlightenment (one color of the whole face )
Will get rid of under eye black circles and Give Signing face
3visits are recommended for face to give ultimate results
-For falling hair :
Cosmetic Clinic in Jordan Hollywood smile To renew hair follicles 6 visits are recommended.
Clinic Hours
From Saturday to Thursday, from 9:00 AM to 11:00 PM.